New joint paper in Cell Metabolism by the META-CAN principal investigators Catherine Thieblemont (AP-HP Hopital Saint-louis-Université Paris Descartes) and Jean-Ehrland Ricci (C3M, INSERM), with the participation of the ESR Manuel Grima-Reyes (C3M, INSERM).
This translational research identifies GAPDH as a clinical biomarker of Diffuse large B cell lymphoma (DLBCL) response to anti-CD20-based immuno-chemotherapy (R-CHOP), which is the standard treatment for this heterogeneous disease since 1998. They conclude that GAPDH expression predicts B cell lymphoma metabolic status, as they demonstrate differential response to disruptors of OxPhos metabolism in GAPDH Low and High B cell lymphomas, being the first ones responsive to that treatment. Most importantly, the treatment of four GAPDHLow DLBCL patients, who were refractory to all anti-CD20-based therapies with L-asparaginase (K), mTOR inhibitor (T), and metformin (M) (called KTM therapy) led to complete response upon one cycle of KTM in three of them.
These findings establish that the GAPDH expression level predicts DLBCL patients' response to R-CHOP treatment and their sensitivity to specific metabolic inhibitors.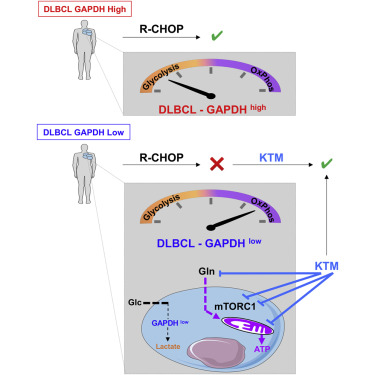 Link to full publication:
www.sciencedirect.com/science/article/abs/pii/S155041311930066X/